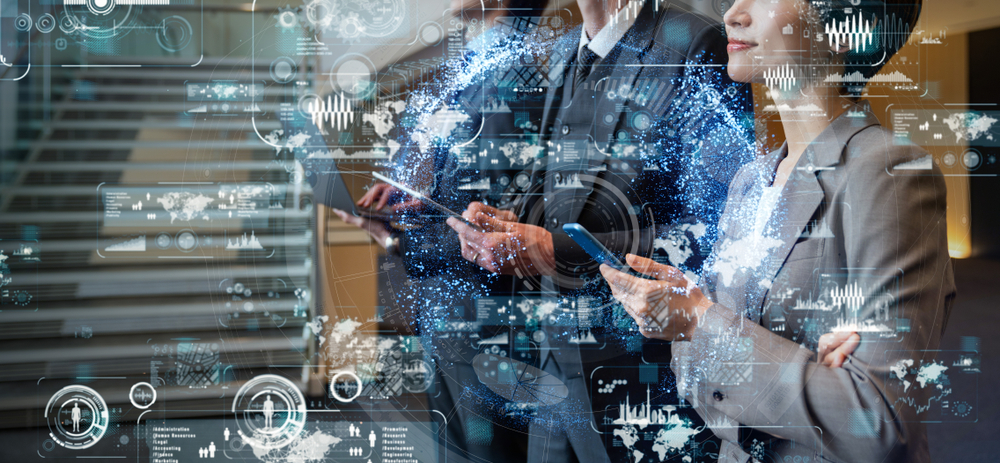 How Can Mobile Apps Transform a Business?
With evolving technological trends, the world of business continues to develop across the globe. Firms in different industries are taking measures to compete and survive in the ever-changing era of technology, because if you don't – you might be forgotten. Following the trends lead a company to the pinnacle of success and one of these major technological drifts include development of mobile applications for the digital transformation of a business. You may have a breakthrough quality product but if you're unable to break the geographical barriers and get to your target market, your efforts may go useless.
In this article, we have gathered the proponents and detractors of mobile app development for your business, some surveys to support the topic and examples of successful businesses to help you make an informed decision.
Take a look at the numbers…
The trend took over and has been in business for over 4 years now. Back in 2016, enterprise app market alone was considered as one of the most potential markets for application developers. Daniel Burrus from Burrus Research Company conducted a survey of 700 companies. Not so surprisingly, all of them agreed that half of the businesses in their respective industries would develop mobile apps for various operations in the upcoming years.
Mobile apps can take the company to the next level – inside out!
In an era where there's a tough competition in the market, it is important for an organization to be quick in taking actions. Undoubtedly, these actions involve decision making, handling business operations and managing them so the results are efficient and effective. Thus, employees are required to act timely and accurately. This is where IT and machines come to help.
Apps and software are found everywhere, and most of the times these are integrated to our computer systems. Ever since smartphones have taken over the world, the idea of computing has narrowed down to the palm of a man. From business partners to customers, anyone your business is related to keeps a smartphone so you can coordinate with them, send quick emails, surf the web and catch up with your tasks even when you're away. With this idea, it is important to create a business intelligence app that can handle a number of operations and even reach goals that were otherwise impossible.
-- Transforming internal operations with mobile apps
Leading FMCG Corporation in the world, Unilever recognized the potential of incorporating mobile applications with in-house operations. Back in 2004, the senior management requested the top executives to be equipped with mobile devices. They chose three leading models of BlackBerry at the time and worked out to form heterogeneous email-servers and wireless networks including Wi-Fi and CDMA.
What happened next? The executives could work when they were away, or on the move, they could monitor the company's performance anytime and anywhere and send and receive emails right on time. The handset also enabled them to be in touch with their customers and communicate more effectively. The results were loud and clear – Unilever boosted the company's productivity and performance tremendously.
London Heathrow is the busiest international airport in Europe. The company has an app that connects more than 1,700 employees working in different corners of Heathrow. To understand how the business got major digital transformation, it is important to look at the problem faced before the launch of Heathrow Operations App. This is also an important tool to decide the kind of app you might need to develop for your business.
So back in time, the communication between the employees was often interrupted due to distance. By employing an app that supports two-way communication, the staff can easily get quick updates and respond in time. The information is transmitted from one terminal to another in split seconds and no one in the company is missing out on any important announcements. This company app also has an analytics tool that helps prioritize tasks and highlight the most popular news on the board.
Possibilities of what you can achieve for internal matters are endless. Besides flawless coordination, companies tend to contribute ideas and build strategies together and analyze how the operations can improve further. Similarly, with the advanced technology in hands, companies can set themselves apart from the crowd and build a strong brand recognition using mobile apps.
-- Leveraging mobile apps to build a strong brand
If you have a startup plan, only web presence won't be enough to expand further. To reach more and more customers, you will need some online activities. So, mobile apps are also an unfailing marketing tools for startups and small businesses. A survey reveals that around three-quarter of US Americans checks their phones every hour. Imagine what could happen if your customer is exposed to your logo throughout the day – you're never leaving their minds!
The rule of thumb in advertising says, being seen or heard around 20 times can get you noticed. Imagine the outcomes when you'd spend way less than hanging billboards and running an advertisement on TV or a newspaper. That too, at the will of your customer, you will be visible every time they unlock their phone.
Analyzing from the customers' perspective, a person is more likely to buy a product if the process is easy. When apps are bright and highly interactive, that's strike 1! With a great user interface, you can get your customer's attention and provide all the convenience and ease they are always looking for. When things can reach at the doorstep with one thumb impression, who would want to go to a shop or open their laptops to find a product.
-- Digitally improving customer experience
Starbucks digitalized its communication with customers via an app. First, the aim was to make the payment process easier so they can enjoy their morning coffee as they like. The app tremendously improved customer response. Further, the company sends gift cards and offers over the app where they can easily redeem and even tip the barista. Schultz, the CEO confirmed that more than 20% of the store sales are online transactions. There are over 9 million carting activities via the mobile app around the world which is a clear answer how much successful the move had been for Starbucks.
Today, every company in existence launches an app sooner or later to get the revolutionary kick-off. Even the giants like Facebook and Google started off as a web app and had to create an app compatible with all kinds of smartphones. Both the companies, now have the largest customer base across the globe. According to Flurry's report, an average customer spends 198 minutes on mobile apps and 168 minutes on the TV. So, the logic not only goes for social media giants but any other company – startup or flourished. With a tangible and highly interactive mobile application, you can build a large customer base for your business and boost sales and revenues.
Mobile Apps to rule the Future!
Even for home businesses and SMEs, developing an app is not only a trend but a necessity. From business giants to small scale startups, all are using it as a key tool to build and maintain their presence in the market. Therefore, we can say that the future is bright for the app development industry as more and more businesses agree that an app is required to work even beside a full-grown website.
Most of the e-commerce websites have moved to apps or built a supporting one to improve the sales of their online store. Mobile shopping is soon to become the most common use of smartphone devices. Also, with the advancing technologies including cloud networking, many companies are accepting the positives of working remotely. Mobile apps will help these firms in improving internal coordination and maintaining a strong communication system for employees, business partners, and customers alike.