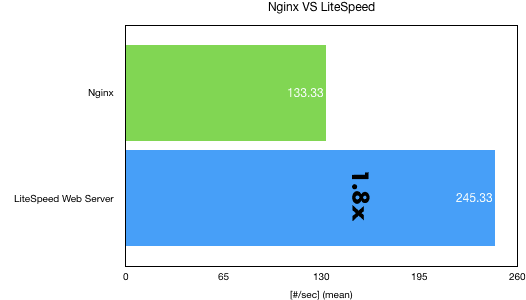 LiteSpeed Vs Nginx: Should you Switch to LiteSpeed?
A secure, scalable and high-performance web server by LiteSpeed Technologies has been quite in discussion in the past few months. Many websites and companies are considering the big switch. However, what suits you best doesn't necessarily mean it would work for everyone. Therefore, this article is meant to clear out your confusions and help you decide if you should switch to LiteSpeed, based on true tests results.
LiteSpeed is also event-driven just like Nginx. The company has developed its own PHP API known as LSAPI. LSAPI is meant to improve PHP performance and reduce the load. Working as a drop-in replacement to Apache, it won't be wrong to say that LiteSpeed works out of the box.
Apache creates web servers that can host one or more HTTP websites. It can support multiple programming languages, server-side scripting, has an authentication mechanism and advanced database support. Further, the performance of Apache Web Server can be enhanced by simply adding extensions or manipulating the code base. Its main feature also includes supporting and distinguishing between different hosts on the same system. Therefore, it is used by many web hosting companies to provide virtual hosting servers.
Is it about time to switch?
According to LiteSpeed Technologies, LiteSpeed is enterprise-grade and able to outshine competitors. It is the 4th most popular and the best commercial web server to date. The company also claims that the technology can improve the overall performance and lower your operating costs.
As a matter of fact, it is really hard to conclude which web server really does outperform others or works best for you. You can test various options yourself to come up with a reliable answer. Not using direct application or your own experiments and tests, it is hard to figure out which web server is most reliable (or mainly, capable of improving your performance). You'd come across a number of confusions; whether the developer provides true information, if the people who comment online about their preferences really know about these web servers, or if there are any particular biases. The answers can only be driven by testing it yourself.
It is not easy to make a decision without testing out the options yourself as you do not know about the requirements of people who have used a particular web server and whether their needs match with you or are poles apart from what you are looking for. You don't know on what basis they approve or disapprove a particular server and this is why the only legit option that remains with you is to test out everything yourself. Now, we will try to have a look at the certain similar attributes as well as the things that differentiate web servers in question i.e. LiteSpeed, Apache and Nginx.
Apache vs. Nginx vs. Litespeed
At Pyco IT, we strive to improve our platform for each of our client. This means, that we are always on the run to test different tech stacks. Here are the findings of the experiment with LiteSpeed Web Server for running WordPress sites, to compare the three servers in question.
Burst tests were run stimulating 10,000 requests over 100 concurrent users. It was observed how Apache, Nginx and OpenLiteSpeed Web Servers handles a small static file and a basic PHP script. Then, each of the server's WordPress performance was evaluates.
All tests were performed with keep-alive enabled. Speaking of WordPress compatibilities, caching is essential. Therefore, we ensured to use an appropriate solution for each server in our experiments. Caching is also strongly recommended because WordPress is a heavy PHP application.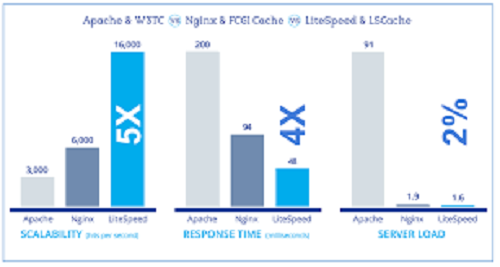 OpenLiteSpeed combined with LSCache outperformed the other two, handling 22,248 requests per second. Conversely, Apache with W3 Total Cache could handle 2,171 requests per second. Nginx with Fast CGI Cache worked best with 9,220 queries. You can decide today or run your own test to see the results. In either cases, you will give LiteSpeed a shot.
We'd recommend switching to LiteSpeed Web Server based on the quantifiable research as done by the LiteSpeed Technologies itself. Benchmarks that have been conducted on our end confirm that LiteSpeed is faster than Nginx. Not only does LiteSpeed give a performance boost, but reduces server load as well. Stability of hosting environment and enhanced site performance can be expected.
Moreover, LiteSpeed comes with its own WordPress plugin, LSCache which is much more than a cache plugin. It offers a full website optimization tool. Some of the main features include:
CDN
DB and Image Optimization
Cache Crawler
CSS/JS Optimization
Removing query strings from the plugin
Correspondingly, LiteSpeed web server development is highly active and the team releases updates weekly. We feel that our own company values align with LiteSpeed's. It is important for us to stay ahead of the curve and offer our users the best features. LiteSpeed Web Server is one of the first to take advantage of QUIC protocol. QUIC started at Google to address well-known problems with TCP. QUIC is fast, secure, and scalable.
Nginx Vs LiteSpeed – Head to Head
Our decision to switch to LiteSpeed does not mean that there's anything wrong with Nginx. It is purely due to the features of LSWS that work best for any WordPress hosting environment. Mainly fast performance and reliability along with good back-end support are clear wins. It has some new features you won't be able to enjoy with Nginx. These include:
LiteSpeed Web Server is compatible with mod security. Moreover, it has additional DDoS protection shields like bandwidth and connection throttling. LiteSpeed Technologies specifically confirms protection against SSL Beast Attacks.
LiteSpeed Web Server is most compatible with Apache capabilities including .htaccess, mod_rewrite, and mod_security. LSWS is also capable of loading configuration files developed for Apache and allow simple transition via hosting control panels in only 15 minutes.
Enhanced Speed, Scalability and Stability
LSAPI ensures stronger PHP speed. The server is geared towards balanced scalability and protect with an event-driven model. It also accelerates the delivery of static content via rapid kernel syscalls.
Cutting down hardware and support bills
The cost you pay to get compatible hardware for Apache is much more than the licensing cost for LiteSpeed. Therefore, switching is very easy. Moreover, support bills with cut down as you use the same hosting control panel you're familiar with simultaneously reliving server strain.
Finally, better speed and lower costs ultimately lead to higher revenue generation for a business firm. So why not give it a shot?
Migration is very simple. Your WordPress site will get a better performance as LSWS works as a drop-in replacement for Apache. You would only need to rewrite rules in your .htaccess file to switch from Nginx to LiteSpeed.
It is recommended to run the test on your own hardware and see the difference. This way, you would make a better decision without any doubts. Pyco is always happy to help! For further information, connect with us.